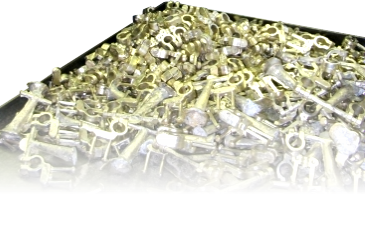 Welcome to Extratech 2001 cc
Copyright © 2012 - Extratech 2001 cc

---

Extratech 2001 cc is a non-ferrous foundry established nearly 40 years ago in the Roodepoort area of Gauteng by a German business man, Harold Muller. Over the years a successful business was built on the foundation of a no-nonsense approach to giving customers a high quality product with a service to match.

Having retired in 2009, the company is now part of the Redman group of Companies continuing Muller's passion for manufacturing excellence and attention to detail and retaining the high standards of quality in all manufactured products. In the next 6 months we hope to attain our ISO 9001 - 2008 quality listing to back up our claims of manufacturing consistently high quality products.

We are passionate about local manufacturing and aim not only to retain our share of supplying components to the local Electrical, Automotive, Agricultural and other industry markets, but to actually increase our share through competing aggressively with imports not only on pricing but especially on quality.

We also pride ourselves on being compliant with all Government Legislation especially in the fields of BEE, Employment Equity, CPA (Consumer Protection Act) amongst others. We have a proud record of having a host of very loyal customers who we have partnered with over many years.




Vision Statement

"To be classified as a world class manufacturer"

Mission Statement:

An Engineering Foundry that:
• Focus on achieving profitability through the efficient employment of available resources of staff,
finances and technical "know how"
---
---
---
• Teaches the world that "manufacturing" is "cool"
• Maximises customer satisfaction in the quality, service and price of all manufactured and
supplied castings and components
• Strives towards creating a win-win alliance between all stake holders to promote the constant
growth and profitability of the company
---
Customers Testimonials

Extracts from our recent Customer Survey
"We pride ourselves on supplying quality parts and your products offer that" -
Field Auto


"Price is Good" -
Eberhardt Martin


"Service - stock levels - price -people" -
EMC


"Excellent Service" -
Flexicor Cables


"Quality/Price/Service" -
Lectrotech


"We have a good relationship with Extratech and will continue as such" -
JF Equipment


"Service is great, I have no problems at all" -
Cullin Africa


"Good Quality, Good Service, Quick Delivery" -
Elmech


"Service and Quality" -
SVR Electrical
• Maintains and creates employment for South Africans